Our team at CMS Real Estate would like to wish you a festive holiday season and a happy new year! We appreciate your support and loyalty this past year and look forward to continuing to serve you in 2023!
As a Calgary-operated business, our great joy is serving Calgarian business owners and tenants like yourself in finding the perfect property!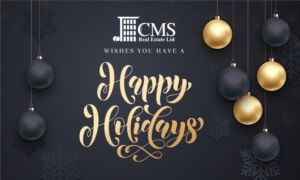 How CMS Real Estate Can Serve You
If you need assistance or have questions you'd like answered regarding real estate this holiday season, CMS is here for you.
CMS Real Estate Ltd. is a brokerage company specializing in commercial and industrial properties. We provide professional advice and counsel to renters, landlords, and investors regarding their real estate questions and concerns.
We blend our regional market knowledge and refined familiarity with the market. This mix provides detailed data to help you uncover customized solutions that align with your needs.
Additional services include:
We are forever appreciative of our clients. It is an honour and privilege to serve as we recognize the value of your business. As such, we want to see you succeed at the highest level in your endeavours. That's why connecting with you and learning about your business is an invaluable philosophy we at CMS Real Estate take pride in adhering to.
In fact, this school of thought has allowed us to retain some of our clients for more than 3 decades!
Conclusion
With the holiday season around the corner, it's important to remember everything you're grateful for. And we're most grateful for all our Calgary clients who have helped us make 2022 a success! Thank you! So whether you require industrial and commercial sales and leasing, property management, or mortgage brokerage services, we can help.
On behalf of the entire team at CMS Real Estate Ltd., thank you for your continued support! Happy holidays and best wishes in 2023 and beyond!